Emerging Strategy is an award-winning management consulting firm that provides strategic market intelligence and advisory services to decision-makers for international market entry, customer acquisition and growth.
Our engagements have spanned more than 50 countries across 6 continents, and we are known for our unique abilities to identify, gather, analyze and communicate intelligence in particularly challenging environments such as emerging markets, frontier markets and other opaque markets.
We are trusted by Fortune 1000 companies, high-growth start-ups and SMEs, investors, and major non-profit organizations.
Our insights have featured in reputable publications such as The Wall Street Journal, CNBC, Fortune, Ed Week, and others.
Emerging Strategy was founded in 2006 and today operates as a fully remote organization with full-time team members in over 10 countries.
---
Strategic Perspective
Emerging Strategy provides strategic intelligence to clients who need to make decisions about their strategy and tactics. Inspired by the Strategy Choice Cascade of former Proctor and Gamble CEO A.G. Lafley and former Rotman Business School Dean Roger L. Martin, our work largely focuses on choices #2 and #3: "Where to play?" and "How to win?"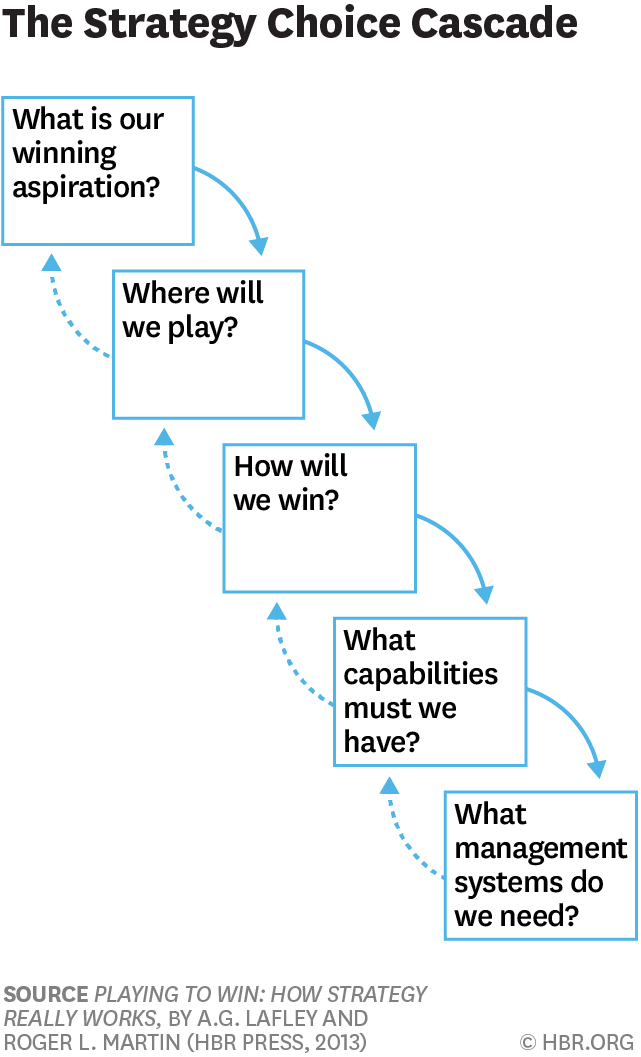 Informing "Where to Play"
💡
Identify and Prioritize Markets: Market sizing (TAM, SAM, SOM), market landscape including trends and drivers, value chains, customer segments, and key market participants. Determine whether a market merits growth investment.

Access a global analyst team that leverages industry and geographic experience and analytical skills to deliver results.
Informing "How to Win"
💡
Grow Revenue: Customer insights to seize commercial opportunities by uncovering needs, decision criteria, price sensitivity and willingness to pay, and perception of supplier options. Test the features and commercial proposition of new products with customers prior to launch, avoid blind spots and incorporate valuable customer input.

Access global primary research capabilities via our "feet-on-the-ground" in key markets. Surveys, interviews, and sophisticated pricing research techniques.
💡
Gain Market Share: Competitive intelligence to improve the quality of strategic and tactical decisions by understanding your position in the market and competitors' GTM strategy, portfolio, partnerships, and much more.

Access global competitive intelligence capabilities that meet the highest ethical standards.
💡
Execute Growth: Inform organic growth initiatives and go-to-market (GTM) strategy: prioritize attractive market and customer segments. Identify, screen, and strategize channels, distributors, and partners for market entry or product launch. Develop pricing tiers and bundles.

Access experienced strategy professionals with industry and geographic experience combined with deep insights from industry experts and subject matter specialists as needed.
💡
M&A: Identify and screen targets for long-lists and short-lists based on custom criteria. Conduct commercial due diligence with quick turnarounds.

Access a global analyst team that can leverage their presence spanning 14 time zones to operate around the clock if needed, delivering high-impact results within tight deal timeframes.
Ongoing Decision Support
💡
Get things done: As a strategy or research professional, there is a lot on your plate and you're being bombarded with ad hoc requests from across the organization. In addition there are programmatic research needs you also need to attend to. Ease the pressure by adding bandwidth and capability.

Access a global team of experienced researchers and analysts who work with you as an extension of your Strategy, Intelligence, or Research function. Your dedicated Account Team includes two senior points of contact.
---
Capabilities
Market Research, Strategic Market Intelligence, Advisory Services, and Consulting

💡
Research: all Emerging Strategy engagements begin with a foundation of excellent research

Primary research including qualitative research via in-depth interviews and quantitative research via surveys

Secondary research using public sources and proprietary sources, including syndicated research and data

Data mining using custom-built software and machine learning to automate the collection, cleaning and output of data

Multiple languages for primary research and secondary research, with native language speakers
💡
Intelligence: most clients need actionable intelligence, not only research

Analysis and triangulation to transform research into intelligence

Conjoint Analysis and other powerful pricing analysis tools

Data Visualizations that make it easy for clients to review intelligence

Customized dashboards to facilitate the sharing of metrics

Actionable intelligence and conclusions for an executive audience
💡
Advisory Services: many clients need expert recommendations about a specific course of action

Recommendations on strategic initiatives such as Market Entry, Launching a new Product or Service, pursuing M&A or Partnerships

Embedding experts who are senior executives with operating experience in the relevant industry, product and geography combination
💡
Consulting: some clients have limited personnel or local operating experience, and need execution support

Piloting B2B sales in a new market by prospecting with potential customers

Pre term-sheet discussions with potential M&A targets or business partners

Workshops and training for our client's employees
---
Let's Talk
Make important international growth decisions with confidence, backed by specific and relevant strategic intelligence
Get in Touch